Top Chef 4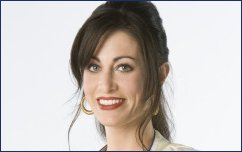 Nikki Cascone and her husband have welcomed their first child into the world. Full Story


Ted Allen has gotten engaged to longtime partner Barry Rice.

It was a memorable holiday season for former Top Chef: Chicago contestant Nikki Cascone.

Bravo has announced it's developing Top Chef: Masters, a new Top Chef spinoff that will pit culinary professionals against one another in a series of weekly challenges.

Stephanie Izard became Top Chef's first-ever female winner when she took home the Top Chef: Chicago title during last night's fourth-season finale broadcast on Bravo.

Bravo has apparently decided to take a chance and wade into Kid Nation's cooking grease-splattered waters.

It's not Mythbusters: Food Edition, but it sounds awfully close.

Bravo has revealed the identities of the 16 culinary up-and-comers who will be competing on Top Chef: Chicago, the fourth season of the network's Top Chef reality series, which will premiere Wednesday, March 12 at 10PM ET/PT.

Bravo has announced it has renewed Top Chef for a fourth season that will film in Chicago.